Amanda Clark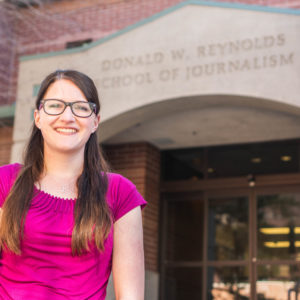 Amanda Clark is an aspiring bilingual reporter and storyteller at the University of Nevada, Reno. She will graduate in Dec. 2019.
Clark is passionate about AP style, grammar and copyediting and is drawn to investigative news and feature stories. She is also proficient in Spanish and plans to produce stories in Spanish for Noticiero Móvil and later into her career.   
Clark collaborates with her Noticiero Móvil colleagues on exploring mental health issues among Washoe County residents. She has reported on the relationship between food insecurity and mental health and efforts to improve youth's mental and emotional health in the community.
Driven by her leadership, work ethic and perfectionism, Clark strives to give 100 percent in every aspect of her life. As a supervisor at a Chick-fil-A franchise, Clark desires to instill confidence in her team members. She loves developing her team and helping them reach their potential. One of her greatest desires is for her colleagues to remember her as an inspiration and positive influence.
In her personal life, Clark enjoys spending time with her husband, Matt. Their hobbies include playing board games, playing outdoor sports and cooking. They also enjoy visiting their families in Las Vegas.
View Amanda's LinkedIn profile here.
Katie Nemitz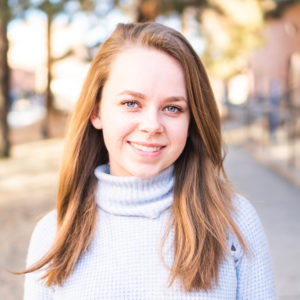 Katie Nemitz is a journalism student with a minor in painting, graduating from the University of Nevada, Reno in May 2019. She enjoys being able to convey messages in creative ways by combining the storytelling skills she has learned from her journalism classes and the design principals she has learned from her art classes.
She is knowledgeable about AP style, strategic communications, multimedia production, social media and visual design.
The Reynolds School of Journalism taught Katie to be confident when stepping outside of her comfort zone and making connections with people she wouldn't have been able to otherwise. Being a reporter for Noticero Móvil has allowed Katie to gain access to communities she has never heard from, despite growing up in Reno.
As an intern with the Charter School Association of Nevada, Katie has gained experience in audio production and has connected with the education community in Nevada.
Katie enjoys hiking and traveling. She spent the spring semester of 2018 studying in Prague, and traveled to many different cities and countries. Thanks to her traveling experience, Katie affirmed her strong sense of independence and learned how to solve problems in an unfamiliar environment. Upon graduation, Katie plans to cross into unfamiliar places to share engaging stories about history and culture to a broader audience.
View Katie's LinkedIn profile here.
Jordan Gearey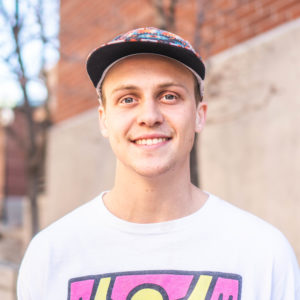 Jordan Gearey is a journalist at  at the University of Nevada, Reno. He has contributed frequently to Our Town Reno, a publication that documents the lives of Reno's homeless population and the services that assist those vulnerable communities. He has also published stories on Reno's cannabis culture, such as the October feature story of the Reno News and Review titled "Diary of a Budtender."
Focused on writing and photography, Jordan is contributing to Noticiero Móvil with stories that report on the first-hand experiences of individuals in transitional housing situations.
Jordan was born and raised in Reno and loves his community. He aims to report on the rising cost of living in the area, as well as the low income community that is feeling the negative impacts of rent spikes. He plans to graduate in the spring of 2019 and begin working as a wildland firefighter for the U.S. Forest Service, where he hopes to make an ecological impact on the country while continuing to practice his storytelling abilities.
Karina Gonzalez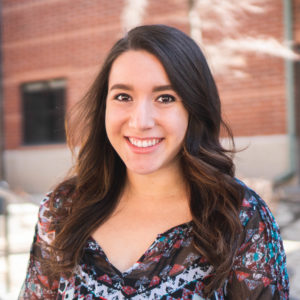 Karina Gonzalez is a first-generation college student from Elk Grove, CA studying journalism and political science at the University of Nevada, Reno. After anchoring for her high school news broadcast and interning at her local newspaper, she knew journalism was her calling.
Since living in Reno, Karina has immersed herself in the community telling multimedia stories ranging from video to radio features. Her short video profile on a local Guatemalan baker, Fausto Salazar, inspired her to direct a bilingual documentary about his story.  
Karina is committed to honing her reporting skills and telling stories in a way that is engaging and effective across digital platforms. She gravitates towards community reporting, especially involving the Latino community. As a bilingual reporter for Noticiero Móvil and KUNR, Karina strives to tell stories that might otherwise go unheard.
Follow her on Twitter at @karinamariegonz
Temi Durojaiye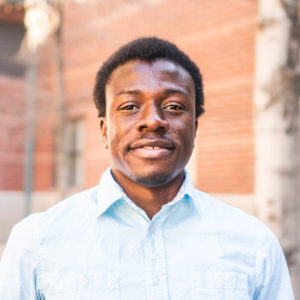 Temiloluwa Durojaiye is a graduate student in the Media Innovation program at the University of Nevada, Reno. He moved to the United States from his home in Lagos, Nigeria to pursue his passion for journalism, focusing on data reporting and multimedia journalism.
He wants to work for The Ringer covering art, culture and sports when he graduates in December 2019. Currently, he's covering access to preventive healthcare options for lower-income communities, particularly food security, immunizations and primary care.
He enjoys watching basketball in his free time and listening to music.
Issmar Ventura
Issmar Ventura is a Latino multimedia journalist from Washington, D.C. who lives in Reno, Nevada. The 26 year-old was born in La Union, El Salvador.
Ventura is a graduate student at the Reynolds School of Journalism at the University of Nevada, Reno. He is currently working on his master's degree in journalism media innovation. His anticipated graduation is May of 2020.
The Salvadoran has worked for Telemundo, Voice of America, Univision, and BBC News.
In his work with Noticiero Móvil, he covers stories related to mental, physical, emotional, and sexual health in Washoe County.
Ventura plans to continue his work as a broadcast journalist upon graduation.
Javier Hernandez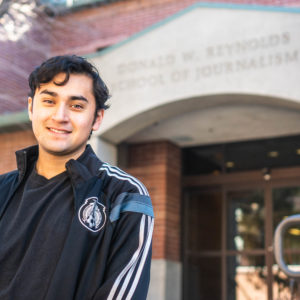 Javier Hernandez, a Reno native, is a proud, first generation college student at the Reynolds School of Journalism. He is interested in covering immigration, stories that could affect the future of Asia, the abuse of opioids in America, the increasing cost of pharmaceuticals, and government affairs in Mexico.
Javier is a photographer and visual storyteller, skilled in Photoshop. He is also fluent in Spanish and is currently practicing his French.
He hopes to have a career as a writer or a photojournalist at a reputable, long-form publication like the New York Times or The Atlantic.
View Javier's LinkedIn profile here.