Former Reno Mayor Bob Cashell died on Tuesday from health problems. He was 81 years old.
On that day, his doctors and family members made the decision to take him off life support at Saint Mary's Regional Medical Center where he had been hospitalized due to cardiac issues.
Current Reno Mayor, Hillary Schieve, expressed her condolences for the passing of Cashell. She added that "he touched so many with his larger than life personality. He loved the entire Reno community like they were his very own family. His legacy will forever be remembered as one of Reno's greatest!"
Nevada Governor Steve Sisolak shared his public appreciation for Cashell's years of "humility and integrity" as public servant and Congressman Mark Amodei called him a "true Nevada icon."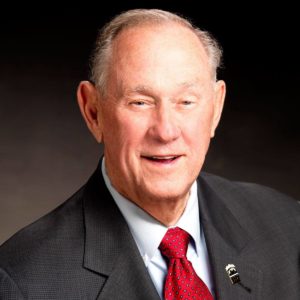 Cashell, who was originally a registered Democrat, switched to the Republican party during his term as Nevada's lieutenant governor from 1983 to 1987. Prior to that time, Cashell sat on the board of the Nevada System for Higher Education (NSHE) from 1979 to 1982.
"Bob was a great leader and dedicated public servant," Jason Geddes, chairman of NSHE. "On behalf of the Board of Regents, Chancellor Thom Reilly, NSHE staff, and our entire system, I want to express our sympathies to the Cashell family."
During his term as mayor of Reno from 2002-2014, Cashell oversaw the development one of Reno's homeless shelters, the Reno Aces ballpark, the building of a new City Hall as well as other major development projects.
Cashell is survived by his wife, four children and nine grandchildren. –CC