Easter this year will be celebrated very differently than before because service will take place mostly on YouTube and Facebook.
After Nevada Governor Steve Sisolak ordered all non-essential businesses closed for the spread of the COVID-19 pandemic, places of worship sent out announcements to their parishioners informing them to close their doors anyway until further notice.
"In response to previous federal and state directives, I have suspended all public Masses for the duration of these … until April 30, in response to the state's extension," Reno Bishop Randolph R. Calvo said in an April 1 letter.
Bishop Randolph added that this was not "an easy decision" but was necessary to maintain the health of the community.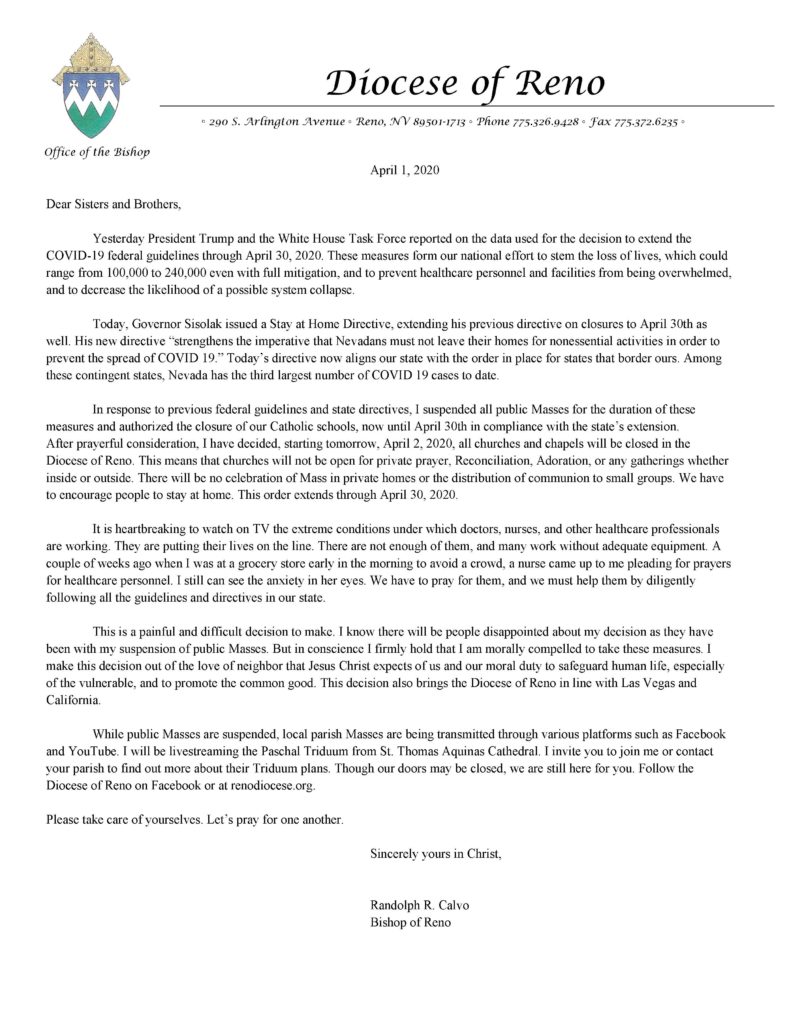 "I know that there will be people disappointed by my decision as they have been by my decision to suspend public Masses. But in conscience I have a firm conviction that I am morally obliged to take these steps," the bishop said.
During Holy Week, the Catholic community usually gathers together to commemorate one of the most important events of the religion.
Now parishes in Northern Nevada have had to adapt to the new virtual Mass. In his message to the Catholic community in the region, the bishop informed them about this alternative.
"While public Masses are suspended, masses in local parishes will be broadcast through various platforms such as Facebook and YouTube," the bishop said.
The Vatican also, in a message to the millions of faithful around the world, encouraged parishioners to celebrate Holy Week from their homes.
Due to these messages, church services in Reno have had to adapt to live transmissions over the Internet.
Father Edgar of St. Peter Canisius Catholic Church in Sun Valley, among other priests, have made the change to online streaming. The pastor has adapted to live broadcast of the Mass every Sunday and is scheduled to broadcast live during Holy Week.
"On Thursday, Friday and Saturday, and at noon we will have the Holy Mass live on the YouTube channel," Edgar said.
The switch to digital Mass will be new for many. Even Gov. Sisolak, at a press conference on Wednesday, also said he has had to adapt and now participates in the virtual services.
"I've seen Mass every day this week on YouTube and it's not the same, but it's what we need to do right now," the governor said. –CC