In 1962, Reno resident and activist Dolores Feemster sat in a small cafe on the corner of South Virginia Street and Plumb Lane and had a conversation with a man named César Chávez.
Years later, when recounting this tale, Feemster could not remember why Chávez had come to speak with her—just that he was looking to help. Feemster would go on to be the longtime president of the Reno-Sparks chapter of the National Association for the Advancement of Colored People. Five years later, Chávez would co-found the United Farm Workers (UFW) and ramp-up a crusade to help the nation's farm workers that would change America.
"Before he was famous, he came to Nevada to do some good works for Nevada residents and he met with the future matriarch of the (Reno-Sparks) NAACP," said Andrew Barbano, the lead organizer of the annual César Chávez Celebration event in Reno, Nevada, who learned of Feemster's story as part of his quest to catalogue Chávez's history in the state.
March 31, Chávez's birthday, was first recognized as a federal commemorative holiday in 2014. Over decades of tireless organizing, Chávez fought for improved conditions and wages for the migrant farm workers of California. His legacy is often tied to his impact in California laws and labor, but Chávez's work as an organizer and an inspirational figure extends far and wide—including into Nevada. To this day, Chávez is celebrated by many organizations and through events in the state of Nevada, but his work as an organizer, uniter, and advocate for farmworkers and labor unions remains unfinished.
Chávez in Nevada: Speaker and Motivator
In 1986, Chávez made his first publicized appearance in the city of Reno. Sixteen years prior, Chávez and the United Farm Workers (UFW) had organized one of the most successful boycotts in labor history: the Delano grape strike. His organizing efforts led to the establishment of multiple union contracts among agricultural workers and the passage of the California Agricultural Labor Relations Act, the first state law to establish a right for farmworkers to organize. At this point, Chávez and the UFW had dealt with numerous setbacks and controversies, but Chávez came to Reno to promote a familiar struggle: boycotting grapes.
"He was supposed to speak in front of the machinist's union, and organized labor leaders convinced him to speak to a quickly-assembled group of labor leaders," said Barbano.
At the event, Chávez spoke about pesticides used in the grape growing process, and the harms they presented to the farmworkers and their children. The UFW raised money by selling "boycott table grapes" posters, and Chávez received a standing ovation for his speech. At the event, Reno Mayor Pete Sferrazza congratulated Chávez by proclaiming that day as César Chávez Day—though there would not be another César Chávez Day celebration in Reno until 2003.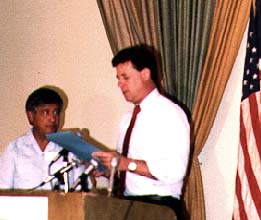 "Arguably he risked his life coming here in 1986," said Barbano, "there was a contract out on him and they were worried he was going to get shot. He had to come with bodyguards."
Chávez was active in Southern Nevada as well, appearing at the Frontier Hotel strike–the longest strike in United States history. One year into the eventual six and a half-year strike, Chávez came to town to speak in front of the embattled picketers of Culinary Union Local 226.
"He walked with me and the picket line, talking to the strikers, gave a lot of support to the strikers and their kids," said Geoconda Argüello-Kline, Secretary-Treasurer for the Culinary Workers Union, Local 226 and one of the lead organizers of the Frontier Strike. "He was the type of guy who likes to talk to one person at a time. You could see him when he was done [giving a speech] talking to one striker and asking for the kids name and really tried to get that connection with the person. I think he had the gift to understand […] every person is so important."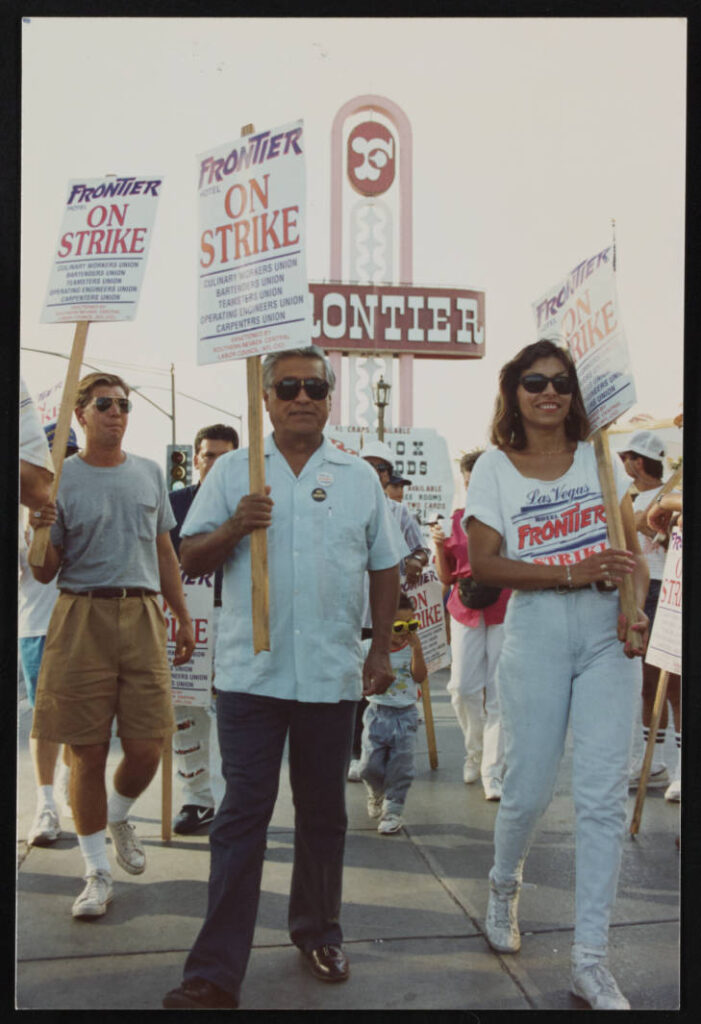 How Nevada remembers Chávez
César Chávez died in 1993. Ten years later, he became eligible for the honor of receiving a commemorative stamp from the US Postal Service. In 2003, Reno media station KUVR-TV Azteca America took this postage stamp opportunity to gather local labor organizations together and host the first César Chávez Celebration in Reno since 1986. Since then, 16 more César Chávez Celebrations have been organized by the city's labor groups—though the planned 2020 celebration was postponed to October, 2021 because of the COVID-19 pandemic.
For Barbano, who took over the role of lead organizer for the event in 2008, he is very proud of the 2019 César Chávez Celebration–where Gov. Steve Sisolak gave the keynote address.
"We broke the record attendance, even though it was a snowy, blustery night," said Barbano. "It was the first time the governor has ever spoken at the Cesar event."
While Barbano regrets that his event needed to be postponed once more, he was proud that other events will be taking place at the end of March to celebrate César Chávez Day. One such event is a panel talk about César Chávez hosted by the Student Government Association at Truckee Meadows Community College (TMCC).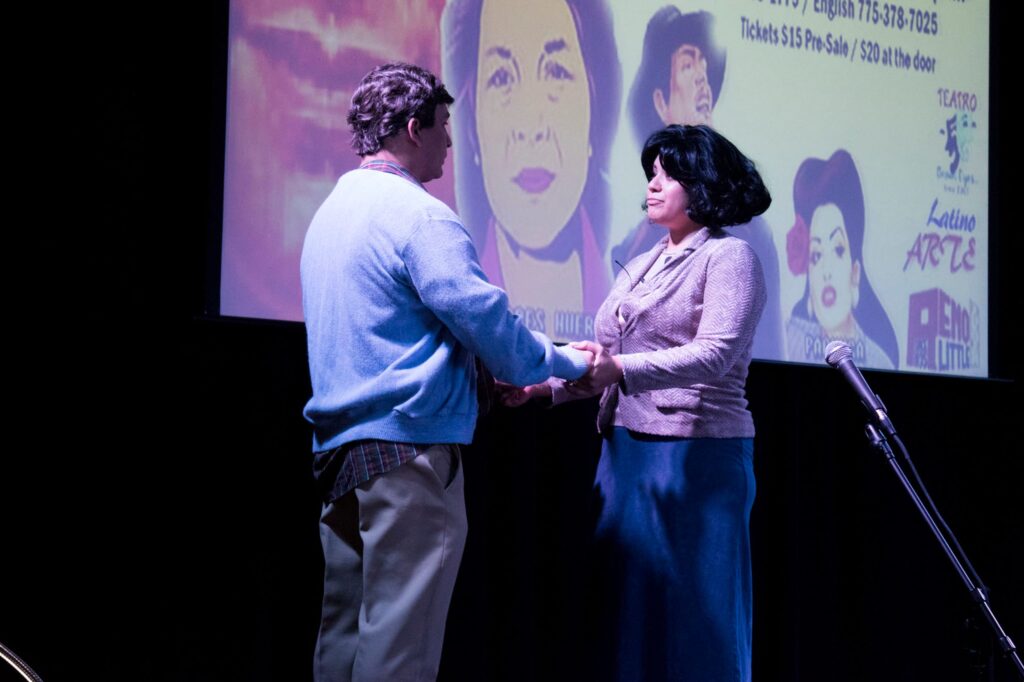 "Our university really emphasizes emphasis and inclusion, we serve a lot of Hispanic students […] and a very diverse population," said TMCC Student Government Association President Alyssa Fromelius. "I hope they come away with the mentality that […] you can really grow and make a difference in the world no matter where you started or where you came from."
A 2009 law passed by the Nevada legislature requires the governor to proclaim March 31st as César Chávez Day every year. In Las Vegas, a small section of road was ceremonially renamed "Camino César Chávez" in 2014, but no other Nevadan roads have been renamed in his honor yet.
"One thing I'd like to see is getting a street named after César Chávez here," said Barbano.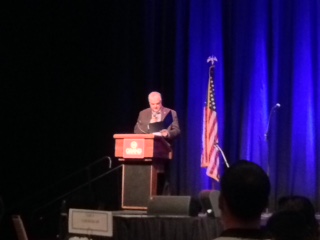 Chávez's legacy: the future of organizing, agriculture, and activism
Despite the progress Chávez made in advocating for farmworkers in the 20th century, there are still many concerns about the conditions of migrant farmworkers in Nevada and across the country.
Farmworkers and agricultural employees were hit especially hard by COVID-19, including a higher prevalence of the disease in Hispanic and Latino workers. In Nevada, no version of the California Agricultural Labor Relations Act that Chávez fought to pass exists for the farmworkers to unite under, and the pandemic put an even greater strain on their conditions.
"The farmworkers out in rural Nevada are often abused," said Barbano. "Farmworkers don't have the right to organize under federal law to this day."
At the University of Nevada, Reno, the Young Farmers and Ranchers Club is one of the many nationwide groups who work to promote education and awareness about agriculture. Club president Cristina Munoz-Robles said it is important to focus education efforts on young people, and to teach them about where their food comes from, how it is produced, and who produces it. When the pandemic subsides, the club wants to get community members involved in hands-on events so people can experience how to raise food themselves and reflect on the effort involved.
"There's something to be said about being an advocate for good agricultural practices," said Young Farmers and Ranchers member Simon Solaegui, "If you care about, say, lettuce that hasn't been covered with pesticides […] then do some research […] vote with your wallet."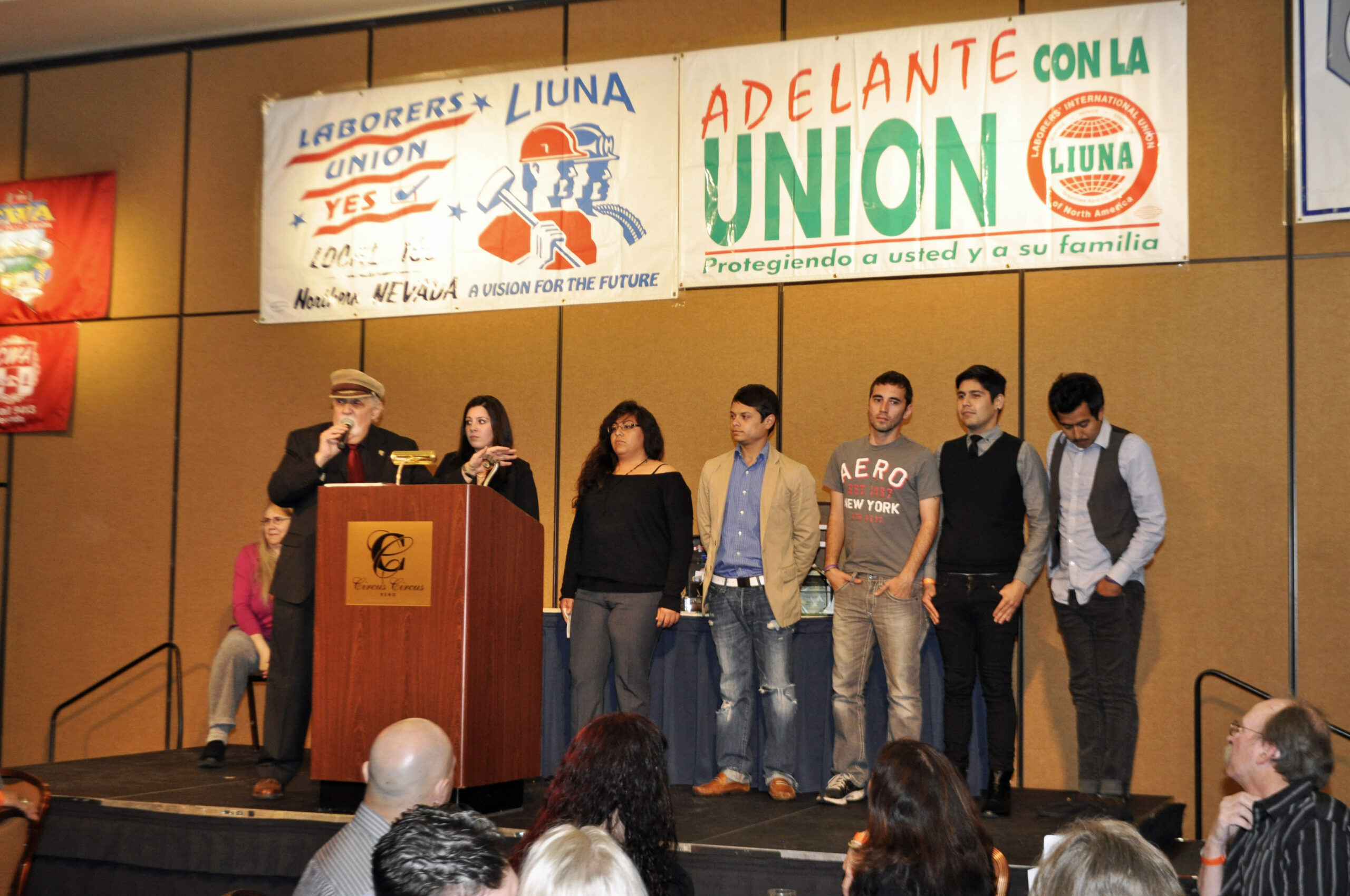 Meanwhile, the future of labor unions is uncertain. In congress, the Biden-supported PRO act could revitalize the country's unions … or it could die in the Senate. Nevada's labor unions have fluctuated in strength over time, but a rise in pro-labor sentiments and potential end to right-to-work laws if the PRO Act passes are sources of hope for labor in the state.
Barbano sees the César Chávez Celebration event he organizes as a way to uphold Chávez's legacy by promoting trade unionism in a region that was once strongly organized, but whose unions have had to rebuild after falling into serious decline.
"At one time all trades in Reno–I mean hotels, restaurants, you name it–were all unionized. Since [the 1990's] there has been a comeback–except in the gambling business–the building trades are very strong, the service employees are very strong, the nurses are very strong, the communications workers are very strong," said Barbano. "The great utility of César Chávez [in Northern Nevada] in the modern era has been this event promoting trade unionism to not only the power structure of Northern Nevada, but to students [as well], and it is all because we honor the legacy of César Chávez."
As the 30 year anniversary of the Frontier Hotel strike approaches in September, the Culinary Union in Las Vegas remains one of the strongest unions in the nation. Argüello-Kline says that one of the most important lessons organizers can learn from Chávez is to stay determined, and she explained how her union works hard to unite people from different backgrounds.
"We have 40 different languages in the union we represent […] but it doesn't matter what language you speak," said Argüello-Kline. "We figure out how to get through to that person and get them organized.
This article was written by Vincent Rendon and shared with Noticiero Móvil. It was originally published on March 31, 2021.