Eerie, bizarre, crazy, surreal are all adjectives we keep hearing to describe the never-before actions that our local, state and federal government are taking because of the coronavirus, that is, the COVID-19 pandemic.
The latest? As of Mar. 17, the Silver State reported its first death due to coronavirus. The victim was a "male Clark County resident in his 60s who had been hospitalized and had underlying medical conditions," according to the Southern Nevada Health District and as reported by The Nevada Independent. This brings the Nevada state total to 55 cases. (Check out this great infographic by our friends over at The NV Indy that is tracking the cases statewide):
As a result of the expected increases in cases once more testing begins to take place, the Governor Steve Sisolak and Reno Mayor Hillary Schieve have taken measures to protect Nevadans, including the closing of schools, casinos and non-essential businesses, like retail, bars, restaurants, salons (for example hair, nail and barbershops), and gyms for the next 30 days.
"Stay home for Nevada", Gov. Sisolak stressed.
All of these spontaneous changes can be confusing, overwhelming and frustrating. The lists below are meant to help clarify what is open, closed, cancelled and where you can get free resources (like food and other services). We hope to keep you updated as much as possible.
What's closed/cancelled
Public institutions
All Nevada schools (until April 3 in Washoe County)
All non-essential businesses including casinos, salons and malls will close effective Noon, Wed., Mar. 18, Gov. Sisolak announced Tuesday.
All state offices
All City of Reno Parks and Recreation programs and facilities
Reno PD will suspend their front desk walk-in services until further notice
The in-person parking payment service at Reno City Hall is suspended until further notice
City of Sparks has suspended all in-person services until at least April 30 (however, some departments might still take appointments.)
Sparks has also suspended all Parks & Recreation programs
All special event that required a Reno city permit for public property use (like parades, concerts, walk/run races, senior events, etc. …) have been suspended
UNR has moved to an alternate operation schedule and online instructions.
All UNR athletic and artistic events
Businesses
Renos Aces Baseball (opening day postponed until further notice)
Reno 1868 soccer (season suspended)
City of Reno has ordered temporary mandatory closures of bars, nightclubs, gyms and restaurants (except takeout/delivery/drive through and pick up services) from Mar. 18 (with the goal of closing by Fri., Mar. 20 at 5 p.m.) until at least April 5
Ski resorts
Vail Resorts – which owns and operates Northstar, Heavenly and Kirkwood – has closed all of their North American operations from March 15 to the 22.
Alterra Mountain Company – which operates Squaw Valley Alpine Meadows, Mammoth Mountain, June Mountain and Big Bear Mountain Resort – has also suspended operations from on Mar. 15 and until further notice.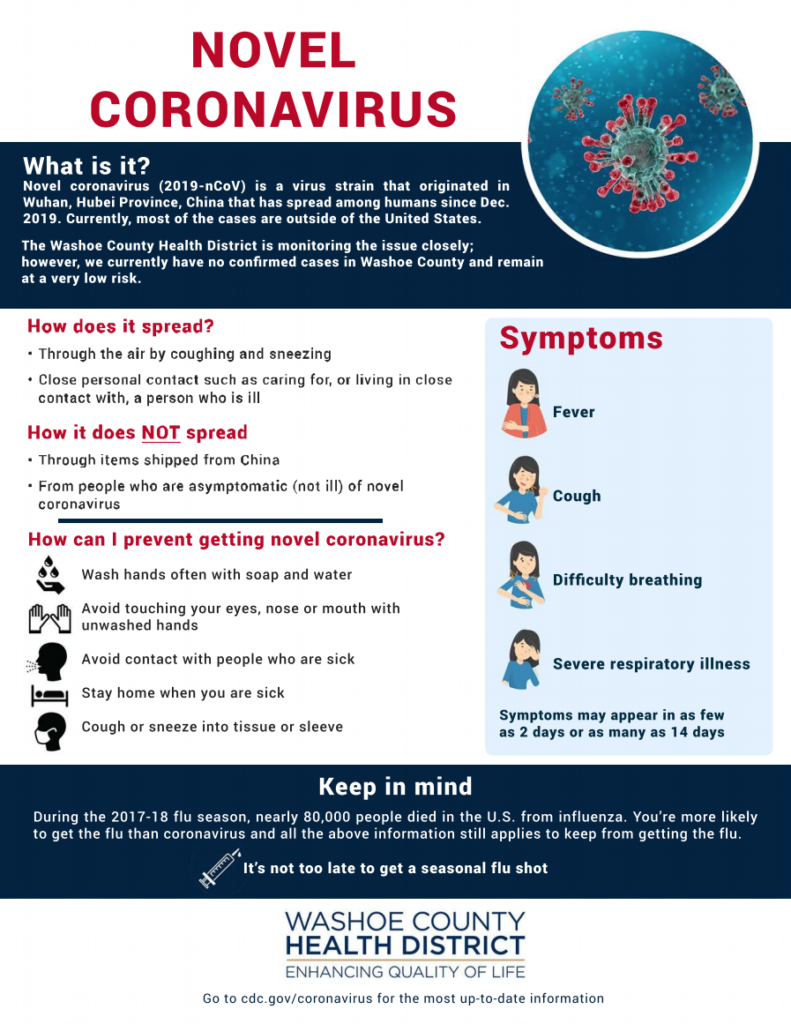 What's still open
Public institutions
The local Reno Municipal Court has limited operations and only for essential functions. Do you have questions? You can call, 775-334-2290, email at RMC@reno.gov, or use their our online chat feature.
The City Council and Planning Commission will continue to hold meetings, but request that citizens stay home and participate via the online public comment form.
Businesses
The City of Sparks is temporarily suspending restrictions on delivery hours to local businesses which means that business owners can accept delivery at off hours.
Pharmacies, supermarket, grocery stories, hardware stores, banks and gas stations
Free resources available locally
Despite all of the closures and uncertainty that we will all have in the next few weeks, at this time, there are some free resources for Reno and county residents. Here's a list of resources for families and seniors to access food, tax information, health insurance and unemployment benefits.
School meals
The Washoe County School District, in collaboration the Food Bank of Northern Nevada Meals, will food options available to students at the following locations during the stated time (list below curated by The NV Indy):
Lois Allen Elementary School: 5155 Mc Guffey Rd, Sun Valley, NV 89433, 11:00 a.m.- 12:00 p.m.
Alice Smith Elementary School: 1070 Beckwourth Dr, Reno, NV 89506, 11:00 a.m.- 12:00 p.m.
Libby Booth Elementary School: 1450 Stewart St, Reno, NV 89502, 11:00 a.m.- 12:00 p.m.
Rita Cannan Elementary School: 2450 Cannan St, Reno, NV 89512, 12:15 p.m.- 1:15 p.m.
Glenn Duncan STEM Academy: 1200 Montello St, Reno, NV 89512, 12:15 p.m.- 1:15 p.m.
Greenbrae Elementary School: 1840 4th St, Sparks, NV 89431, 11:00 a.m.- 12:00 p.m.
Echo Loder Elementary School: 600 Apple St, Reno, NV 89502, 12:15 p.m.- 1:15 p.m.
Stead Elementary School: 10580 Stead Blvd, Reno, NV 89506, 12:15 p.m.- 1:15 p.m.
Sun Valley Elementary School: 5490 Leon Dr, Sun Valley, NV 89433, 12:15 p.m.- 1:15 p.m.
Additionally, meals will be provided at these locations:
Evelyn Mount Community Center: 1301 Valley Road, Reno, NV, 11:00 a.m.- 12:00 p.m.
Donald L. Carano Youth & Teen Facility: 1090 Bresson Avenue, Reno, NV
The Club at the Donald W. Reynolds Facility: 2680 E. Ninth St, Reno, NV
Joe Mitchell Community Center (Lemmon Valley): 325 Patrician Way, Reno, NV
Neil Road Youth Site: 3905 Neil Road, Reno, NV
Also, local restaurant Laughing Planet tweeted that "from now until further notice … [we] will be providing a free kids meal to kids who qualify for meal assistance."
Meals for seniors
Information hopefully coming soon.
Internet
Spectrum will offer free Internet and Wi-Fi for 60 days to new customers in a household with children in grades K through 12 and college students. New clients can enroll by calling 1-844-488-8395. The broadband company will waive installation fees for new student households, according to parent company Charter.
Health screenings
The County is first testing people for COVID-19 if they meet the criteria set by the Centers for Disease Control and Prevention (CDC) for people exposed to the coronavirus. Exposure, which may have occured from travel and exposure to other infected people, may be followed by symptoms that include:
Fever
Cough
Shortness of breath
These may begin between two to 14 days after exposure. The most at risk are:
Older adults
People who have serious chronic medical conditions like:

Heart disease
Diabetes
Lung disease
Information about free COVID-19 testing locations coming soon.
Note from editor: Due to the evolving nature of this story, please continue to visit this article which we will update frequently with information once it is available from the government, health officials and local businesses. (Last updated Mar. 18 at 11:30 a.m.)