A boy on his bicycle was hit by a car last month and more details, including video of the incident, was released by the Reno Police this week. The juvenile sustained minor injuries. 
The hit and run happened on February 24, near Mae Anne Avenue and Ambassador Drive where the juvenile was in the crosswalk at around 2:20 p.m. and was sideswiped by a dark colored or black GMC Yukon model year between 2007 to 2014, according to an official press release. The sport utility vehicle hit the bike's back wheel causing the victim to fall. The driver fled the scene. The young boy was not wearing a helmet, but that is not required by Nevada law.
These types of incidents, unfortunately, are happening more often in the region. Pedestrians and bicyclists are being hit far more than in the past and according to MJ Cloud, a retired police officer now the Safe Routes coordinator for Washoe County School District, any child that gets hit is one too many.
"We have catastrophic numbers this year. In the past, the most accidents that involved students were maybe seven, and now we're hitting above 20. Anything over zero is unacceptable, but to have 25 students hit by a vehicle — whether they were on their way to their bus stop, waiting for their bus, or walking to school or biking to and from school — is too many," she told KUNR in January.
The intersection of Mae Anne Avenue and Ambassador Drive is less than one mile from two elementary schools (George Westergard and Sarah Winnemucca) and one middle school (B.D. Billinghurst).
In October 2019, Wooster High School student Aliah Lucena, 14, on her way to school died from her injuries after being struck by a truck on Harvard Way near the Costco.
To be sure, this issue is not only affecting the youth in our community.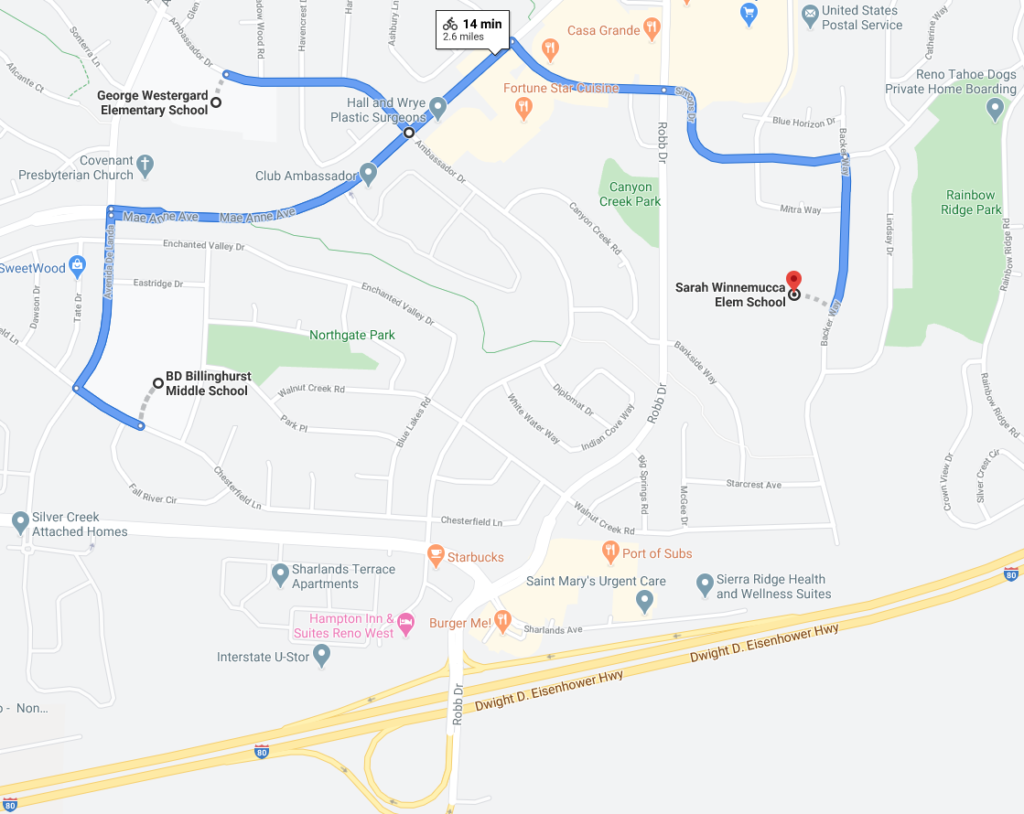 On February 19, two pedestrians were killed after getting hit by cars. Sixty-five-old Randy Billaber died after a car rolled onto him near Kietzke Lane and Galletti Way. On the same day in Sparks, 79-year-old Roy Degiovanni died several hours after being struck near the intersection of Goldy Way and Baring Boulevard.
Pedestrian safety has become a major concern in recent years in the Reno-Sparks area.
Sixteen pedestrians died in Reno-Sparks in the past year and 2019 was the deadliest for them in the last 5 years, according to the Nevada department of safety figures shared by the Reno Gazette Journal (RGJ).
The latest data from the National Highway Traffic Safety Administration states that the "pedestrian fatality rate in 2019 — 3.4 fatalities per 100,000 people — was nearly twice the national average and 12 percent higher than Nevada's statewide average," as reported by the RGJ.
Students at the University of Nevada Reno expressed their safety concerns for when they travel around campus and the community.
"I enjoy riding my bike around the Reno area, but not many people seem to be paying attention while driving," said a student at UNR who did not want to give their name. "I don't know how most of them have their license."
If you have any information on the recent Feb. 24 hit and run, please contact the Reno Police Department at (775) 334-2188, or Secret Witness at 322-4900, www.secretwitness.com, or text the tip to 847411 (TIP411) keyword, "SW." –CC
Additional reporting by Claudia Cruz