Carolina Alonso, a biochemistry student at the University of Nevada, Reno, on Tuesday advanced to the next round of NBC's nationally syndicated singing show The Voice.
Alonso, a 23-year-old whose parents immigrated from Mexico, chose to sing the ballad "Triste" by the popular Mexican artist Yuri. Her choice so impressed Kelly Clarkson, one of four judges on the show, that within seconds of Alonso's singing, Clarkson pressed her button to turn her chair around and therefore show her interest in continuing to work with the young woman.
On The Voice, the judges assemble a team of singers with the blind auditions, that is, without first seeing the candidates. The goal of the program is not to let appearances influence the judges. This season, which began on September 20, the judges include Clarkson, John Legend, Ariana Grande and Blake Shelton. The winner of the show will receive a record deal.
As Alonso said in her presentation video, when they first arrived from Mexico, the family lived in her uncle's garage and she was embarrassed to invite friends over. The future pharmacist added that her drive to work hard is because "it is very important to my parents that I end up with a good job, where the work is not as physically exhausting as what they have had." Her mom cleans house and her dad is in landscaping.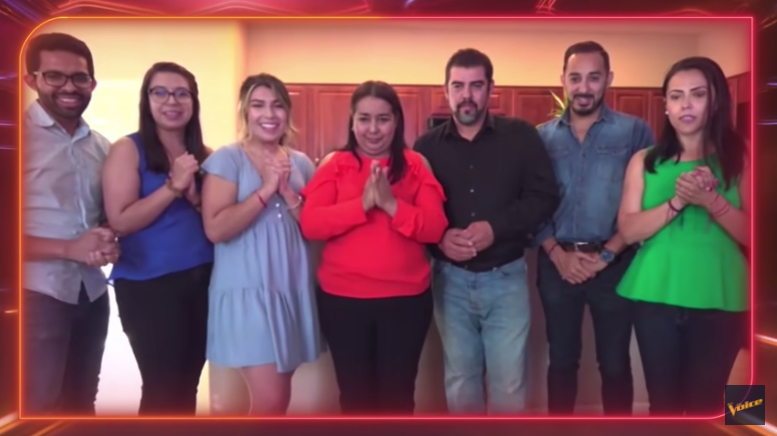 However, her dad is not just a laborer. He also performs in mariachi bands and Alonso has accompanied him for seven years as a Spanish-language singer. Local residents would usually find them performing at La Fonda restaurant located on Neil Road in Reno.
After flipping her chair around, Clarkson added that she has been using the language learning program Duolingo to learn Spanish.
"I'm obsessed with your voice," said Clarkson, the first winner of the American Idol singing competition in 2002 who has been successful ever since. "I love when people come out and can sing in different languages. … I'm the coach for you. Yes. Welcome to Team Kelly."
Follow Carolina Alonso's journey on The Voice on Mondays and Tuesdays at 8 p.m. local time on NBC.