Reno artist Ruby Barrientos introduced her most recent artwork, "Las riquezas de la vida no tienen precio," an exhibit based on the images and styles of the Mayan culture, at the John and Geraldine Lilley Museum in the University Arts building in late January.
The idea behind the exhibition, which Barrientos calls "Nuwave Mayan", in addition to paintings also included live cumbia music (a traditional rhythm of Central and South American). The artist shared that "for me, art is not just about personal expression, but it is also a form of activism," asserting that "I want to share my art in order to help unite communities by expanding the cultural diversity of our town into spaces and venues like this one," referring to the UNR space.
Spaces like UNR, she said, "which historically tend to be filled with an overwhelming representation of white culture and artists alone, and that should not be the case," adding that, "art is for everyone."
"No matter what color you are, or how poor or rich you may be, and that is 'nuwave' mind," Barrientos said.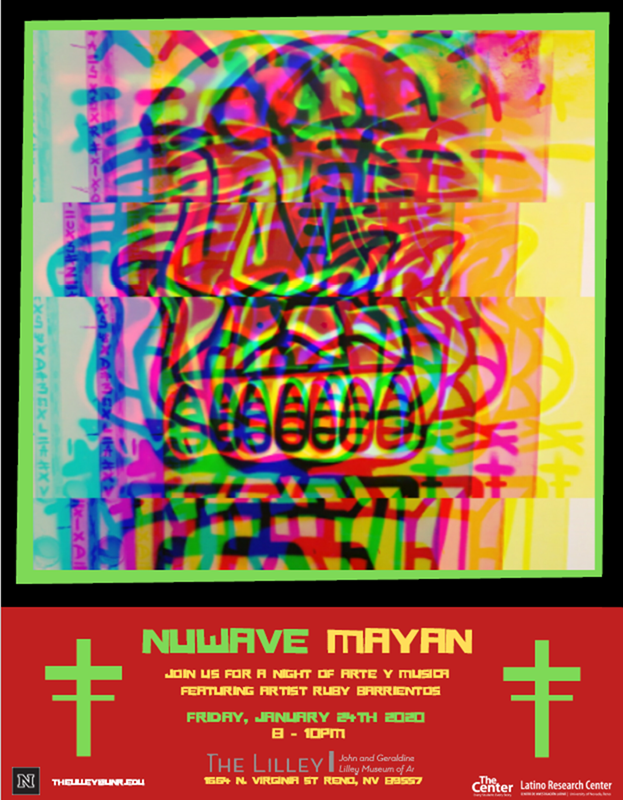 In her art, Barrientos uses Mayan imagery and styles in her work, drawing inspiration from her immediate family and ancestral roots. Her art honors her late father who immigrated to the United States with the rest of her family during the Salvadoran Civil War. The war, which took place between 1980 and 1992, left more than 75,000 dead and disappeared.
"I also connect to ancient cultures, and I'm Salvadorian, I am part of the 'nuwave' of my generation," said Barrientos. "I want to start a movement to connect my ancestry to the current."
In the exhibit, the title which translates to "The Riches of Life are Priceless," Barrientos utilizes spray paint and an old door to quickly express her concepts. "I had this urge to create," she said. "This door has been discarded and was seen as trash, but I saw the value in what could be created with it."
The artwork used different symbols, such as her father's (Mario Antonio Barrientos) initials, a dollar sign to indicate materialism, and crosses as symbols of religion and colonization from the Western world.
"[The door] reminded me of the fact that throughout my whole life I had limitations because of the color of my skin or socio-economic status and in spite of these limitations, I've been able to create my own opportunities and that includes being able to speak with you all today," she said.
"I often wonder if my parents hadn't immigrated here, to the U.S., if I would even exist," Barrientos said. "I don't know if I would be here sharing my art with you today, had they not." –CC