The legislation for the Deferred Action for Childhood Arrivals program, known as DACA, is still in a state of uncertainty.
Our reporter Natalie Van Hoozer sat down with KUNR Reno Public Radio News Director Michelle Billman to provide some updates.
Listen to the story here:

Here are seven things to know.
2) An immigration bill was not considered as part of legislation before the end of the year. According to Texas Senate Republican John Cornyn, immigration legislation will be looked at in January of 2018.
3) There are politicians who have fought for the DREAM Act to be passed before the end of 2017, including Nevada State Senator Catherine Cortez Masto. She spoke on the Senate floor before the session ended, asking for support and sharing a letter from Reno resident and DACA recipient Maria Toca, who moved to the U.S. when she was 4 years old and is now a preschool teacher.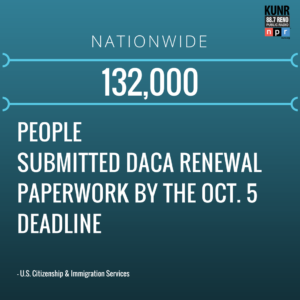 4) Nationwide, according to U.S. Citizenship and Immigration Services, USCIS, about 132,000 of the 154,000 people eligible to renew DACA submitted their paperwork by the October 5 deadline. Roughly 22,000 DACA recipients did not submit their renewal applications by the October 5 deadline, or 1 in 7 DACA beneficiaries did not renew.
5) Some people did not renew their DACA because of misinformation about the final deadline for submitting paperwork. Those whose DACA expires by March 5, 2018, were eligible to renew, and some people thought March 5, 2018, was the deadline for reapplication. The actual deadline was October 5, 2017.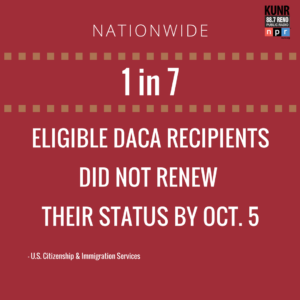 7) In Nevada, USCIS states that approximately three-fourths of the DACA recipients eligible to renew their paperwork did so before October 5. Specifically, roughly 1,660 people renewed out of the 2,140 people who were eligible. More broadly, until a legislative decision is reached, young immigrants with DACA and their families will wait in uncertainty to see what the future holds.
This report was produced in partnership with NPR member station Reno Public Radio, KUNR 88.7 FM.