"A Shero's Journey or What Anacaona and Yemayá Taught Me," written by Dominican-American playwright Guadalís Del Carmen, is an invitation to explore self-love and Afro-Latino identity.
For a little over two hours, the play, performed by theater students from the University of Nevada, Reno, and directed by Professor Yassi Jahanmir, addresses the generational scars left by Spanish colonization on the indigenous and African communities of the Dominican Republic.
"I wrote this fully aware of the challenges of putting it on and I'm incredibly proud of each and everyone of them involved in the production. I'm proud of the actors and I'm proud of Yassi," Del Carmen said at the end of opening night on Friday, March 4. "My heart is really full watching these beautiful babies tell this story, so I couldn't be happier right now."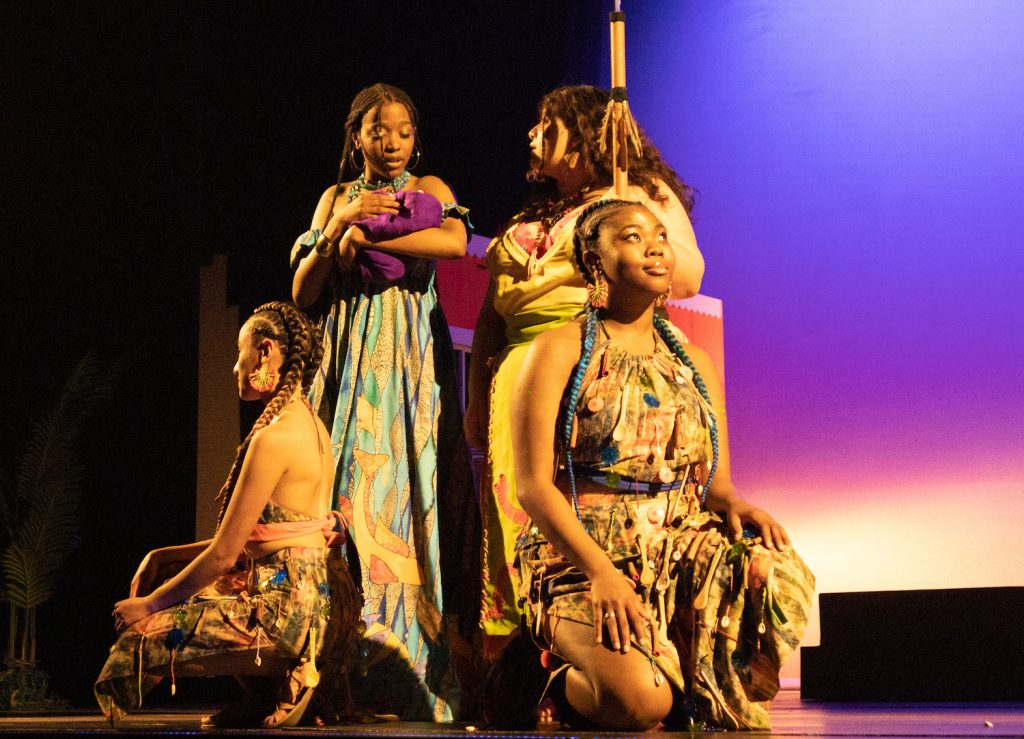 The story of Zoila (Kennedy Gaskins), the play's protagonist, is based on a journey of self-acceptance through the discovery of the value of her roots. Belonging to a macho and religious family, Zoila faces racial and cultural oppression that manifests itself through nightmares. With the help of her indigenous ancestors, Anacaona (Maya Macias) – a Taina chieftain – and Yemayá (Dejiah Cobb) – a water deity of the Yoruba religion,– Zoila learns the importance of true love, to accept her Afro-Latino traits, to value her Taino and Yoruban heritage, and to fight racial supremacism.
Topics related to the discovery of one's cultural identity are gaining more acceptance in society as themes about intersectionality, that is, the idea that individuals face many different types of overlapping discrimination including race and gender, enter mainstream conversations. It may be the first time in a decade that a theater production about the Latino community is performed at UNR, people told the Reynolds Sandbox.
"To be able to bring such a cultural and different story to life is such an honor. I am really excited to play this role," said Ajani Jones, who plays Amor, a character who falls in love with Zoila and encourages her to accept herself. He also takes on the role of Sssssnake.
"There are some topics that are controversial, but we hope that the audience can have an open mind," he added.
Buy tickets for "A Shero's Journey or What Anacaona and Yemayá Taught Me:"
When: March 4-5, March 10-12 at 7:30 p.m. and March 6 at 1:30 p.m.
Where: Redfield Proscenium Theatre, School of the Arts, University of Nevada, Reno
Prices: Adults: $15; Seniors 65 and older: $12; UNR faculty and staff: $10; UNR students with ID: $5; Tickets are available to purchase online.