Presidential candidate Tom Steyer visited Latino-run small businesses in the Midtown area of Reno late-January and stumped about his economic plan. He also said that President Donald Trump has "targeted Latinos in a racist agenda.
The business man said that "Latinos are also American citizens who care a great deal about being able to earn a living, start a business, provide education for their kids, and have affordable healthcare."
During his visit, Steyer spoke with several small business owners about the economy and its impact on minority communities. He stopped and visited Mari Chuy's, El Mundo Latino y Reno Little Theater.
The candidate expressed his desire to become more involved with the Latino communities in Nevada because he wants there to be "economic support" and a normalization of everyday people shopping at these locations.
"If we push for higher minimum wage, if we have … the benefits of society spread much more broadly there are going to be many more consumers who can afford to come in here," Steyer said.
Jesus "Chuy" Gutierrez, the owner of the Mexican restaurant Mari Chuy's, welcomed Steyer to his business and hoped all the candidates get a chance to visit so the Latinx community (the term "Latinx" is a new term used to be more inclusive of genders) has the opportunity to listen to them and become inform for the upcoming Nevada caucus.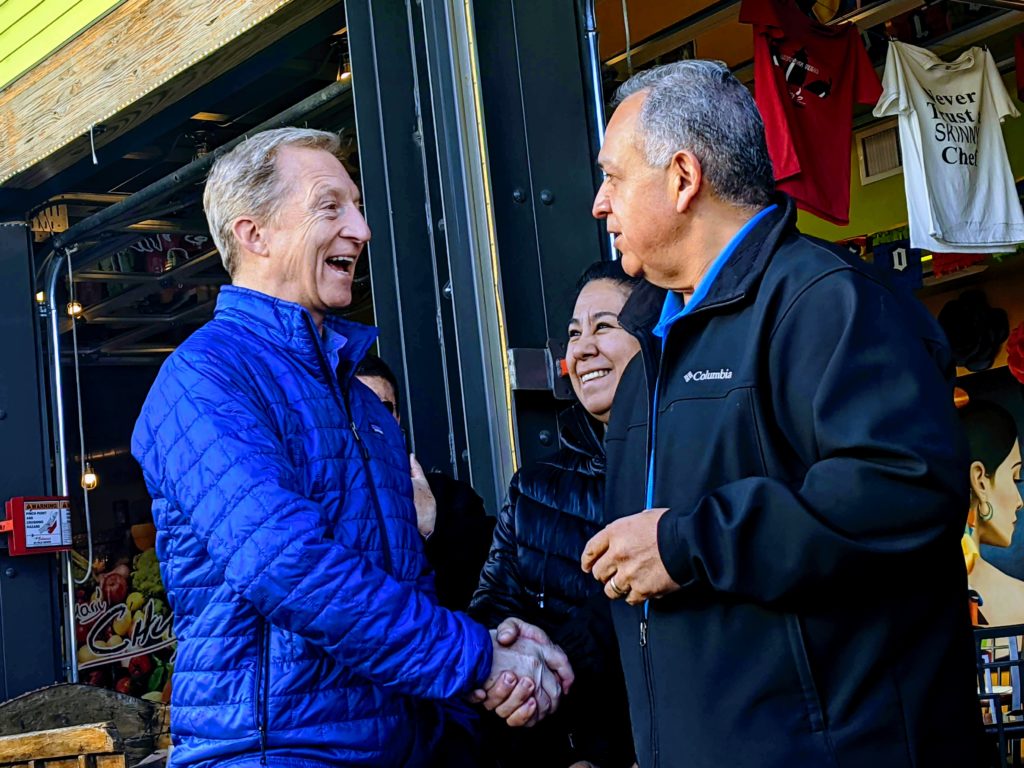 "That's what we want right now. Let them look, get informed and make the right vote. We're happy to have anyone [visit here]," Gutierrez said. "In politics they all have an interest now. Right now we don't know who cares for our people."
For Mario De La Rosa, a Reno resident and editor of the Ahora Latino Journal, all the candidates needed to do a better job reaching out to Reno's Latinx community.
"Not everyone [is making the effort]," De La Rosa said. "Some are, but others are doing nothing. I'm looking at all the candidates and all the ideas and policies they want to implement."
On the other hand, Luis, an undocumented man whose last name has been withheld to protect his identity, also took the stroll down Virginia Street alongside Steyer. While he understands he cannot vote, he does support Steyer and he added that if he's able to, he would potentially open a small business in Reno to combat drug addictions.
Steyer is a "human being [who] has a soul who wants to solve human problems and those of the planet", Luis said, "and I think he is a soul that thinks of others and not just in himself."
Steyer's competitors, Bernie Sanders and Elizabeth Warren, both released Spanish-language ads on Monday, Jan. 27. Steyer released his first one on Feb. 8. The Nevada Democratic Caucus takes place on Saturday, Feb. 22. –CC