While many people wake up in the morning to drive to work, some wake up and wait for the day's work to come to them. Along the calm, trickling river at Fisherman's Park, the hustle and bustle of warehouses and auto repair shops, a group of people wait for people to pull over and offer a day of work. As the city is just beginning to wake up, with cars starting, toasters popping, and coffee steaming, these day laborers can be found here seven days a week.
Lying on the border of the cities of Reno and Sparks, Galletti Way is home to day laborers, or jornaleros, waiting to be picked up for various day jobs such as landscaping, painting, construction, moving, and anything else that requires an extra helping hand. Sometimes formal companies will contract them for a short amount of time, or individuals will come by for a single job they need done. The pay can vary between a few hundred dollars for a day's work. Many of these men refer to themselves as 'jornaleros,' but around Reno they are known by locals as day laborers. Some have been coming to this corner for over twenty years for work, and have no plans to do anything different. One man, Samuel, has frequented this corner for two decades now, and says he loves the work and the people he meets.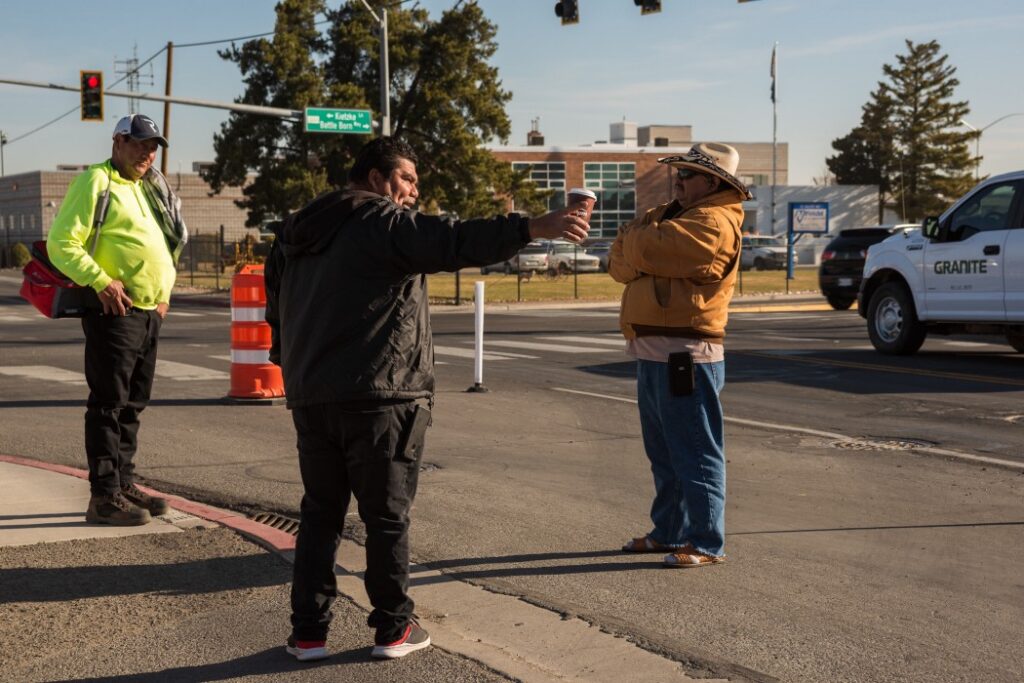 ROBERTO
"I don't have attachment to the state [Chihuahua] anymore; I never did."
Roberto, an outspoken man who did not want his photograph taken, is from Chihuahua, northwestern Mexico. He has lived in Reno since 2012. Before that, he had lived in Brazil and Canada for some time before immigrating to the USA in 1990 and doing day labor work in Utah. "I was sixteen when I left…I want to be a citizen of the world, I have an attachment to the world; I want to believe in humanity."
Very passionate about connecting with others, he told us about his family both in Reno and Mexico, and a little bit about his life philosophy. Roberto studied linguistics, and loves language and conversation. Out of the multiple languages he can speak, Portuguese is his favorite. He mentioned his frustration towards people in America who believe that English is the only language that should be spoken, and as an immigrant wishes that this ignorance was not so prevalent amongst English-only speakers.
When asked about his day laborer job, Roberto made many jokes about not wanting to do any job, but that day labor pays good enough. Growing up, he was trained as a tailor and shoemaker by his father. He even mentioned that he knows how to make 70s-style bell bottom jeans that are "coming back in style." Tailoring and shoemaking are the kinds of jobs Roberto would enjoy doing if he were not seeking this kind of work.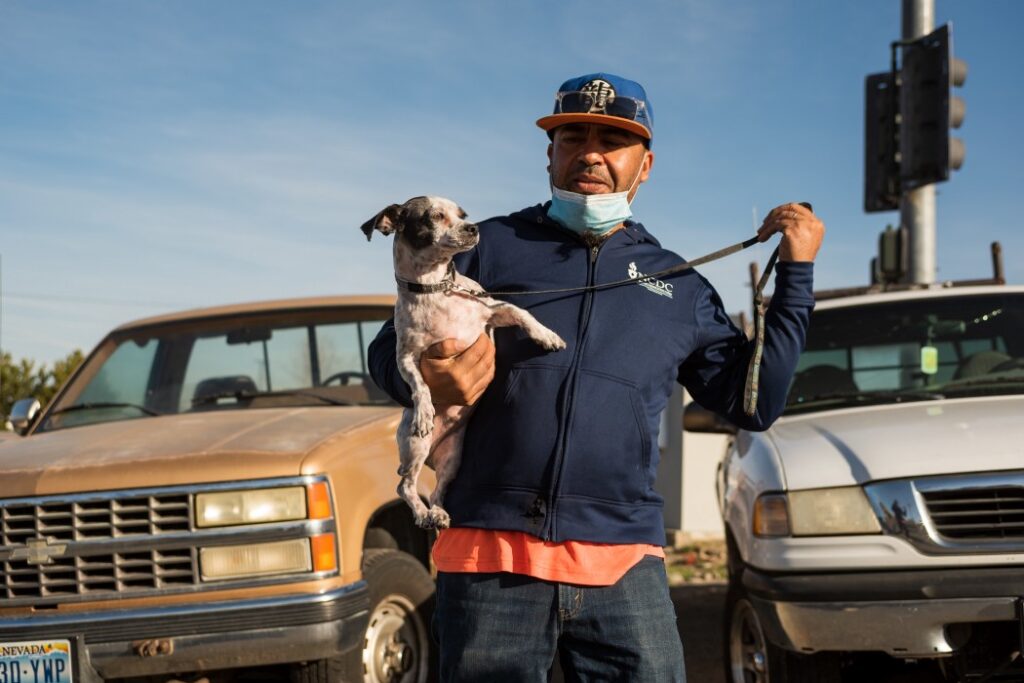 SERGIO
Another day laborer, Sergio, enjoys the work he finds along Galletti Way. A youthful man in his fifties, Sergio has lived in Reno for over twenty years and enjoys the work he is able to find. "I am from Guadalajara. We work every day, we work at night, and we work at dawn," he said. Sergio has family in Tlaquepaque, a suburb of Guadalajara (a metropolis in western Mexico) as well as Los Angeles and Las Vegas. "We earn one hundred dollars a day," he said, "we earn two hundred, three hundred, and sometimes we earn nothing." He is not bothered by the fluctuation in pay, just glad to have the work and prides himself on being a dedicated and hard worker. He can do everything from landscaping and laying sod, to concrete and construction work.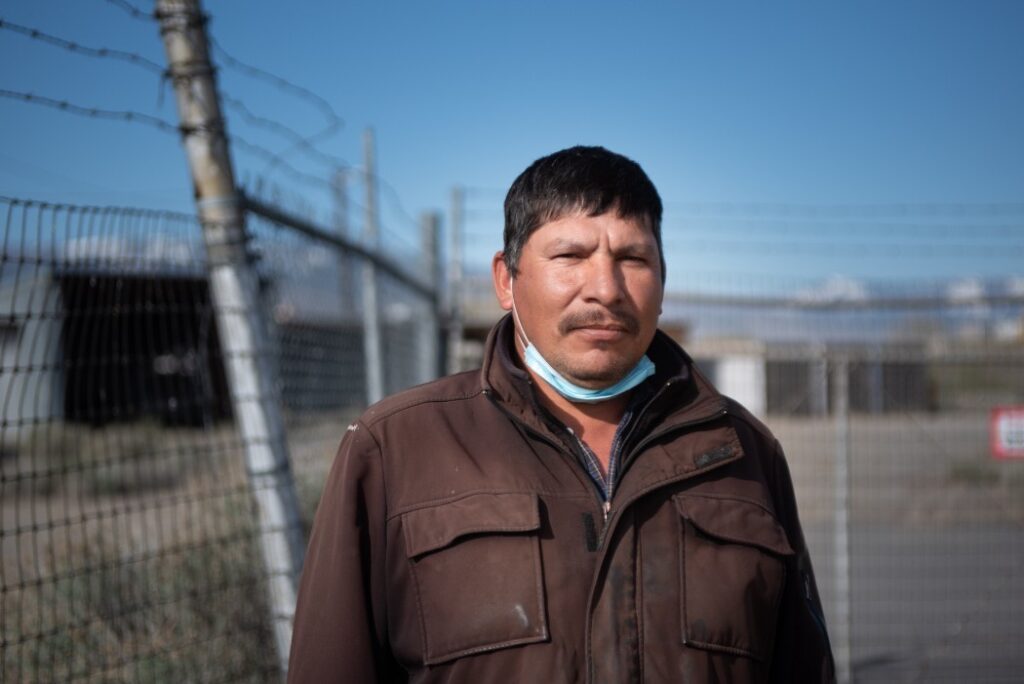 TAURINO
Taurino, another day laborer we spoke to in this area, has been in Reno for about twenty years. He has come to this street for eighteen years looking for day labor work. A few years before that began, he walked across the border from Mexico into the United States. "I walked many days, almost five days," he said. He now has permanent residence and a family established in Reno. Most of the work he gets hired to do is in the field of construction, building houses, office buildings, and more. However, if he were not doing day labor work, Taurino mentioned a job he would like to do would be to pick up trash around the community to help out.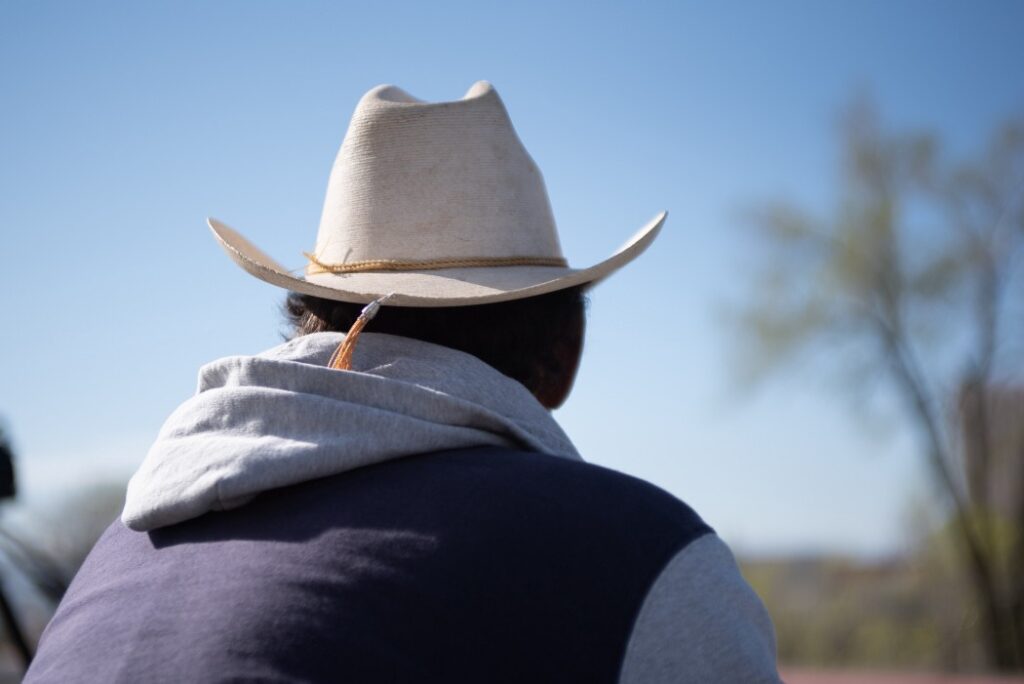 JOSE
Jose, a 67 year old retiree, comes to Galletti Way to get out of the house, walk around a bit and be social. A doctor told him one month ago that he should stop working because his eyesight is becoming too bad, and so he retired from his landscaping job which he had worked for many years. He used to come to Galletti Way for jobs on his days off because the pay he said can be really good.
Jose represents a long standing tradition in the U.S. Western/Southwestern states, a tradition of migrant farm laborers who work in the agricultural fields of California. Harvesting fruits and vegetables, mangos being his favorite, Jose is among those that cross the Mexico/U.S. border to come here and work. From 1976–80 Jose worked as a farm laborer in California. This is the type of day labor job he enjoyed doing most.
He thereafter returned to Mexico for 16 years until deciding to come back to the U.S. permanently after a massive economic crisis plagued Mexico in the mid-1990s. When Jose crossed the border in 1996 on foot near Tijuana, he said that it was very easy to cross without fear of border patrol or legal repercussions.
Jose's career here in Reno for the most part has been landscaping. Out of the forty workers in the landscaping company he was with, only he and one other person had papers to be legally working in Reno. He was earning $17 an hour upon his retirement. Unfortunately, Jose can no longer work as much due to his health, which is something that bothers him after spending a lifetime working manual labor jobs. Nevertheless, Jose can still be found on Galletti Way with the other jornaleros/day laborers, playing their chances with receiving work in the unofficial work economy in the U.S.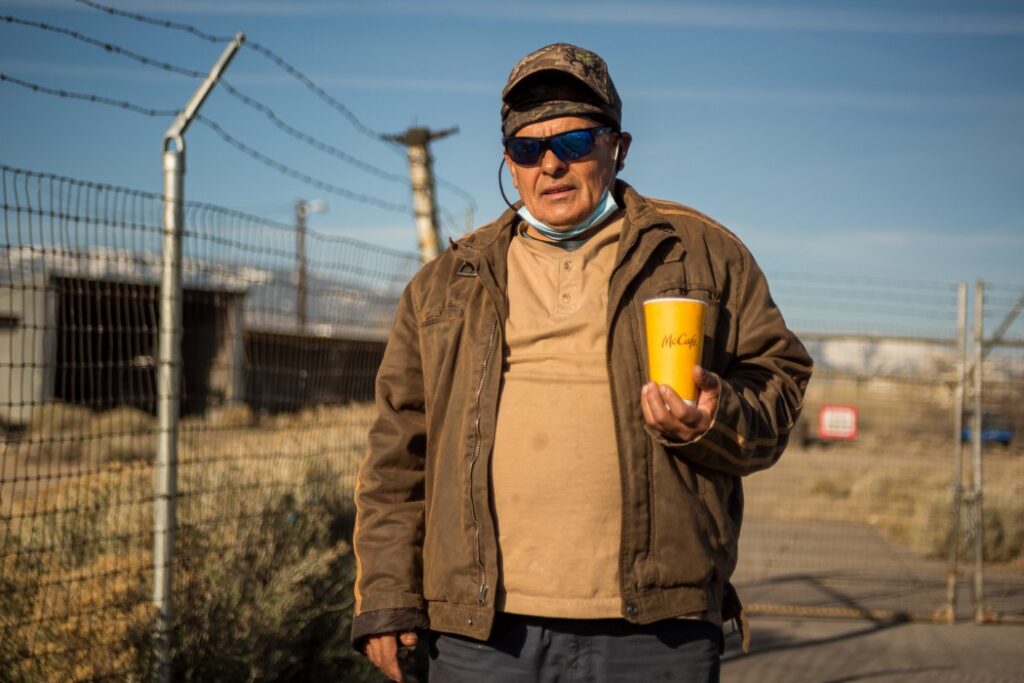 Many metropolitan areas across the United States have a population of day workers. On any given day, there are tens of thousands of day laborers looking for work across the country, according to a U.S. study on day labor from 2006.
While some places may have more official and organized methods of the day labor force, others are simply a well known location where the jornaleros can be found looking for work. This group in Reno has been established in the area for some time, across the street from the old state office for day laborers, which is indefinitely closed from the COVID-19 pandemic. It is known that a helping hand can be hired for the day here, by the international men who love using their hands-on skills in a variety of ways.
What lies ahead for Roberto, Sergio, Jose and the others is unknown. Although the summer months are better for work than in the winter, a day laborer's job is uncertain and not easy. There is no word on when the state office, found across the street from Fisherman's Park along Galletti Way, in Reno will reopen. What is certain is that day laborers are going to be offering up their services on Galletti Way, and that local residents are going to come here to look for workers, much needed in this current economy that is seemingly always short of help. A sort of symbiosis has developed between the public and the day laborers, with both sides being grateful for one another and depending on each other to better their lives. "Thank you to the Governor and authorities of the state of Nevada and from Reno, who have given us permission and given us the chance to work here, in this place," Taurino said.
Reynolds Sandbox reporting by Richard Bednarski, Jillian Briare, and Bailey Shepard.
This article was originally published on May 13, 2021 and shared with Noticiero Móvil.